This is an unofficial news site dedicated to the development of Indiana Jones 4. At the helm are Steven Spielberg and George Lucas with Harrison Ford reprising the role of Indy. The film has has now been released with mixed reviews from critics and fans, as of May 22nd 2008.
Cate Blanchett with sword, again
February 11th, 2008, posted by FofR | Digg This
After the last picture of Cate Blanchett branding a shiny silver weapon, Italian press Sorrisi e Canzoni TV have provided us with a delightful second. Although this time it is Shia with his neck on the line.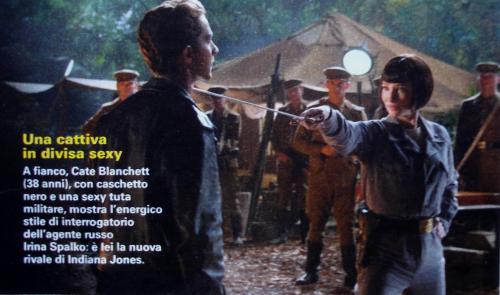 Thanks to The Raider and aboninix.
Trailers clocks in at 1m 43s
February 6th, 2008, posted by FofR | Digg This
The BBFC (British Board of Film Classification) have passed official classification of the new Indiana Jones 4 trailer, given a rating of PG with "no cuts made". The most telling fact on this sparse page is the runtime, set at an exciting 1m 43s
When submitted to the BBFC the work had a running time of 1m 43s.
The running time of this film was calculated from the measured length of 155+3 ( feet + frames ).
This work was submitted to the BBFC by Paramount Pictures UK .
Via The Raider
Crystal Skull revealed…
February 6th, 2008, posted by FofR | Digg This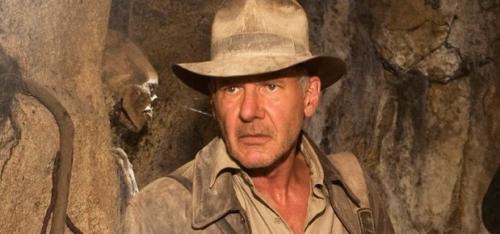 … and then covered up again as Paramount Pictures sweep across the internet in hopes of removing all references to it. I'm not going to post the SPOILER image here, but a couple of sites do still have the image up. (Bradley Cain's Blog, Dugg Mirror, Geeks of Doom, ATTUHome for instance). The picture above is NOT the skull image (which is much clearer, scarier and other-worldly) - it actually comes from the Official Pix blog,
The 11×14 inch Indiana Jones and the Kingdom of the Crystal Skull image will be limited to just 50 hand numbered pieces making it an instant collectible! Each of these hand signed photographs will come bagged, boarded, and include our numbered COA. Price: $459.99.
In other news, Empire have released a higher quality version of the Cate Blanchett image we have seen recently,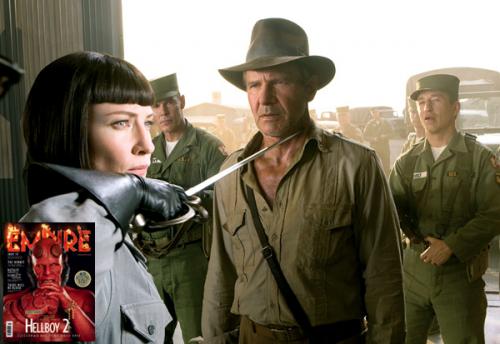 Thanks Guy for the heads-up.
Two new Indiana Jones pictures
February 3rd, 2008, posted by FofR | Digg This
This weekend sees the second Empire photograph come online, portraying Cate Blanchett with sword - looking particularly menacing. The second is an MTV exclusive shot of Harrison Ford amongst some cargo boxes in a pretty generic Indiana Jones pose.
Via Coming Soon: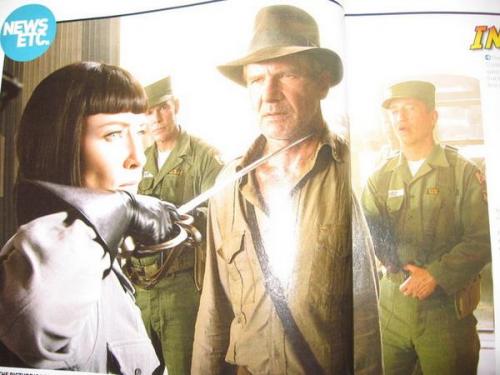 Via MTV: