January, 2008
Empire posts Indy with a rocket launcher
January 30th, 2008 | Digg This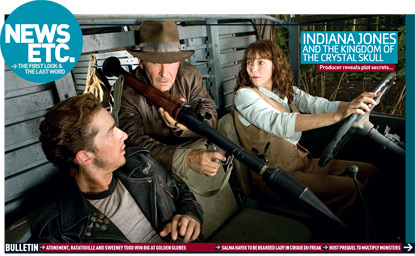 And here we see Indy with his traditional whi… rocket launcher. Empire online has just posted this image as a teaser for their upcoming Indy 4 feature. Inside the issue there is also a second picture of Cate Blanchett as Agent Spalko.
"This picture is locked," Marshall told us of the current progress. "Steven's pretty much done editing. And we're going into the phase with John Williams where he starts scoring the movie. He's really writing now and then we'll start scoring in February".
New Indiana Pictures and Wallpapers
January 15th, 2008 | Digg This
Today we are greeted by a glorious new high resolution image of Harrison Ford and Shia LaBeouf, along with some official Indiana Jones wallpapers to boot.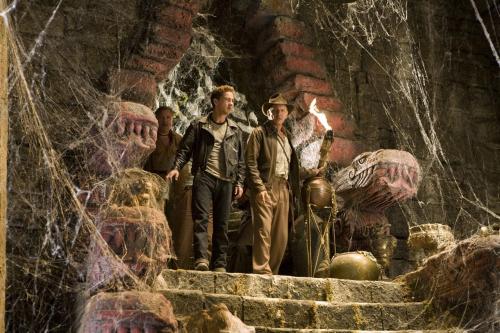 Secondly, the official website has update to include some new wallpapers - no new pictures here, but the majority of existing ones reformatted for your desktop resolutions. How very kind of them.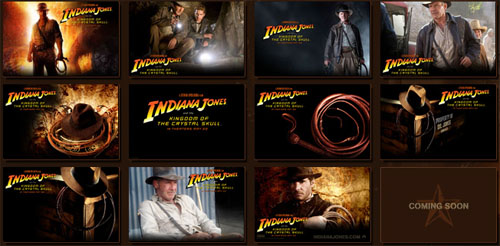 Spy pictures from the Indiana Jones set
January 5th, 2008 | Digg This
Warning - Spoilers Ahead
These pictures reveal some behind the scenes sets used in the filming of Indiana Jones, they were taken at the Universal Studios soundstage. Because they contain some spoilers for the movie plot they are hidden behind the link below…
Indy's Back - Amazing New Photos and Special Feature
January 3rd, 2008 | Digg This
The delectable Vanity Fair are back with an ever so wonderful and enormous Indiana Jones 4 five-page feature "Keys to the Kingdom", containing quotes, interviews and news, but most importantly - new behind the scenes pictures, including our first ever glimpse of Cate Blanchett in Kingdom of the Crystal Skull. Make sure you don't miss the 4 page Question and Answer session with Steven Spielberg, the George Lucas Q & A session and the behind the scenes of the photoshoot video.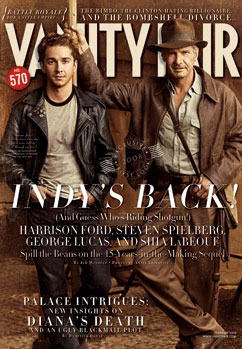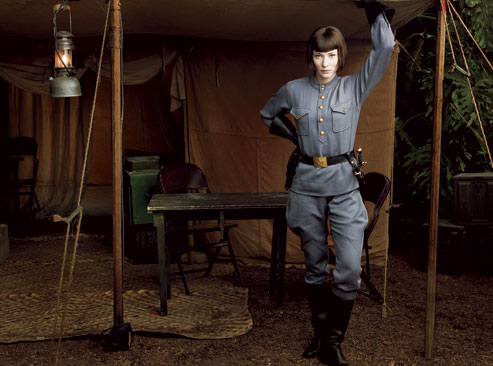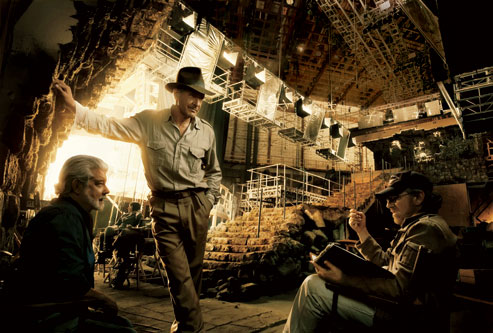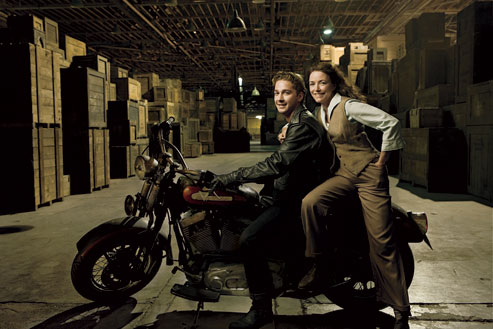 Here are some choice quotes from director Steven Spielberg (via the Q & A session and HA):
I'm in my second cut, which means I've put the movie together and I've seen it. I usually do about five cuts as a director.

The best news is that – when I saw the movie myself the first time – there was nothing I wanted to go back and shoot, nothing I wanted to reshoot and nothing I wanted to add.

I go for geography. I want the audience to know not only which side the good guy's on and the bad guy's on but which side of the screen they're in.

I want the audience to be able to edit as quickly as they want in a shot. [That has] been my style with all four of these "Indiana Jones" pictures.

Quick-cutting is very effective in some movies – like the "Bourne" pictures – but you sacrifice geography when you go for quick-cutting.

[That] is fine because audiences get a huge adrenaline rush from a cut every second and a half [in] "The Bourne Ultimatum".

There's just enough geography for the audience never to be lost especially in the last "Bourne" film, which I thought was the best of the three.

By the same token, Indy is a little more old-fashioned than the modern-day action adventure.