Reports
Report from the LA Set
August 30th, 2007 | Digg This
Harrison Ford Web (links to a very long page, you might prefer this link) also has an exclusive concerning the goings on down in Los Angeles:
Indiana Jones 4 is shooting on four different sets on the Universal lot. Our source has seen three of the sets: the sound stage set and two outdoor sets.

As we've all understood: security on all Indy 4 sets is tight and our source says that security as been tightened further due to an incident a short time ago (see further below). Our source says that the Universal Studios Tour and tram guides are not allowed to make any reference to the newer sets, nor are they allowed to use or refer to the associated project code name. Public access to the sets and stages is restricted and all entrants must wear a Genre badge. The studio call sheets have strictly limited circulation, they are also anonymized. A call sheet normally contains project name/code and the name of the director. The Indy 4 call sheets list no director but carry the project name Genre; ref. our report on July 7: re: the code name for Indy 4: The Unnamed Genre Project.
Indy 4 Filming has taken over Mexican street and a number of other sets at Universal Studios. Here are some pictures:





They are also filming over at Downey Studios with reports of Russian tanks being seen there: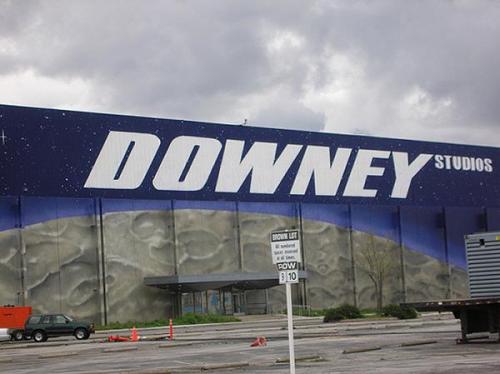 Insider Report from Essex
July 8th, 2007 | Digg This
Today I received an email from 'undeadbothanspy', along with some material which gives credibility to his report, which I shall not post by request. I am including his report in full but the spoilers will need highlighting for you to read them.
"I was very fortunate to be on the set. It was a great experience watching Ford and Spielberg at work. I actually got to have a very brief conversation with Ford. He was friendly, down to earth, and cordial. No attitude or pretension.

But the best part was watching the famous Ford/Spielberg combo at work. They work together so well- they were like a well-oiled machine; their pace was smooth, relaxed, yet intense. There was no ego, no agenda, or clashing. They were devoted to making the best film they could. It was almost as if they had come full circle- those guys with so much credential and nothing left to prove. You could almost say they had gone back to what filmmaking is all about, the love of the craft. It was a true privilege to have had access to all this and I felt so blessed to be able to watch them at close range.

Contrary to what most people think, the scenes shot at Essex are genuinely emotional and are pivotal to the film- I won't say much because these are major, major spoilers, and I have too much respect for this film to disclose what is going on, but I have to say they definitely have something going with the 4th episode in the Indiana Jones series.

I was able to get up close to the monitor and see the scenes they shot, and they are beautiful- well executed. Spielberg still has his touch. There were a few excellent shots, and one of them was a great crane shot involving Ford getting out of a cab, paying fare, and heading to the train, and Shia roaring up on his bike. The camera goes down with the cab, past the bad guys (or feds?) in a car, to the ground, a motorcycle wheel enters the frame, then the camera backs out across the bike, diagonal across the Harley Davidson logo. There's another great shot that's between the engine and the train station and there's all this fog in the middle from the steam engine (dry ice) and out of this fog comes the bad guys (or feds?) who board the train, then out of it comes Shia on his bike. It's just such a well done sequence- so beautifully done.

Again it was a great privilege to watch the best of the best at work. This much I can say- I don't think anyone will be disappointed by this film. Not by a far stretch."
Next Filming Location Unveiled?
July 2nd, 2007 | Digg This
Glen Eigo has sent us a report, this may be considered a spoiler so the text has been hidden, to reveal the details simply highlight the text:
I was at the Essex Steam Train in Connecticut today with my wife and son. There were signs going up for Bedford Train Station and Western Union.

Essex Steam Train is a tourist attraction with an old steam engine that generally brings tourists and sightseers up and down the Connecticut River Valley. The train travels up to Deep River Connecticut to let passengers off to ride the Beck Thatcher River boat up the Connecticut River.

There were Genre Productions crew members all over the site checking things, hanging signs, and painting the train station. There was also a company supplying tents and some signs directing crew members where to park.

Anyone who wants to see the production being set up should probably travel over there today or tomorrow morning. The layout of the area would make it difficult for the crew to completely seal off the area as there are multiple ways to approach the facility.
And to continue our theme of posting ridiculous amounts of 1950's New Haven imagery, here are some excellent new links.
Firstly, The Movie Scorecard has an excellent picture of the motorbike being used during filming and they claim to have some big news coming soon, we'll have to wait and see!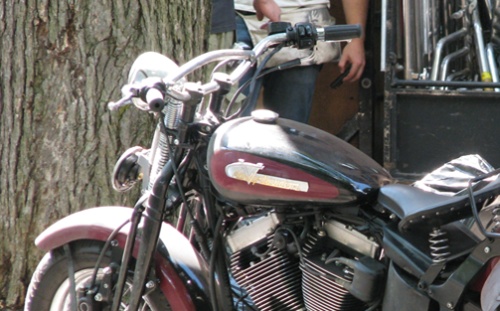 Secondly, let's have some more galleries:
New Haven Plays Bedford 1957
Madogvelkor returns with video
Our reporter in the field Mitchell Hallock has also reported sightings of George Lucas on set in New Haven.
Indiana Jones in New Haven, Day 3
July 1st, 2007 | Digg This
Indiana Jones helps us discover the Fountain of Youth
A beautiful sunny, summer Saturday out with the family, and a trip to New Haven, to meet up with old co-workers and their families, walk around the park, the shops, get a bite to eat, visit to the Yale Peabody Museum to see the dinosaurs, and oh yeah,… see how the filming of Indy IV was going. But, the big star that we all knew and loved was working today – that's right, my pal from college was an extra today and we wouldn't miss that for the world.
You see, this blog isn't a testament or how to guide to be an obsessed fan. It is a report on how the filming is really just an attention-getter, or novelty in the background that brings a lot of curious folks out to see their first ever glimpse of a film production. It has become the equivalent to going to our local Bridgeport Bluefish baseball games, they are being managed this season by legendary New York Yankees pitcher, Tommy John. We take the kids to the games and the parents just talk, the kids run around, we watch the game peripherally. The mid 30s-40s dads perk up if Tommy John comes out and gives a wave – and instantly we are all teenagers again and Tommy is in his prime and 20 years go away in what seems like a blink of an eye. This is what Indy IV has become – nostalgia come to life, as old friends meet up and remember when we were all younger back in the 80s. Sometimes it is the years and not the mileage.
Today, my wife wanted to see what all the "big to do" Indy IV was bout, as the kids had told her about it, and I mentioned seeing Ford and pielberg. Although, I worry if she ever saw Harrison Ford close-up, she ould say "why would the bloodthirsty, murdering crooks in "Firewall" ever kidnap the family dog"? But, honestly, my dear wife could care less, she is not impressed by Hollywood – and as we are in both in marketing – know it is more often, if not always, about business than artistic expression. Also, back in college in New Haven she worked at Scoozi's restaurant, near the famous Yale Repertory Theatre, where she waited on actors or actresses, and never knew who they were. Many a night she would call me up and say at her table was "the guy that was in that "Incidental Tourist-thing", William Hurd? Jason Rhubarb? Stacey Peach? Mertyl Strep? Paul Redford? Robert Newman? I would always correct her and she would say – "whatever". My next question to her would always be – did they tip well?
We arrived in New Haven at noon, walked around Chapel Street. The boys were excited to see the new "old" store dressings, like the old fashioned Bozo fun Phone, the mechanical horse, (which sadly Owen couldn't ride as it was a prop), and read flyers. It was fun to watch them play with the scales and gumball machines. Wait until next May 22nd, they will be them pointing at the screen and "hey that's our Bozo Phone Indy walked by". Questions came up from Spencer, as he read the pamphlets. What was a "commie" or "atomic bomb", and who were the Marshall Patriots and when were they playing football against Northern Connecticut University? Note: There are three directionally named universities in Connecticut – Eastern, Western, and the one I graduated from, Southern – but none called Northern). I explained that it was materials from the fictitious Marshall College that Indiana Jones taught at.
It was quiet today, no Shia LeBouf sporting a pompadour that would give Elvis a run for his money. No Harrison Ford or his stunt double zooming by, either. We looked around and saw that there was some Indy IV filming going on inside the Yale courtyard (where we used to crash Yalie parties back in college) and the Green (where we went to dozens of free summer concerts that had such greats like Ray Charles), and old cars were parked along College Street (where we once found a knocked over parking meter and thought if took it home we'd be rich – but it weighed a ton and we were 10 years old). This filming has really become a big tourist attraction, so much so, we saw bus unload a huge group of tourist nearby and they quickly came towards the roped off filming area with cameras clicking. I kid you not!
We met up with our friends and their kids and played catch with the boys, only to stop to watch the extras come by dressed like students, teachers and regular towns folk in their 1950s clothes. We looked amongst the group and spotted our friend in his costume, complete with shoes – he looked cool, like a picture of my grandfather. The kids were excited as he waved to us, they told all their friends at school, they knew a real movie star. So what he will be a fuzzy, image on screen for less than a nanosecond – today he was the man! He was standing around women who looked like Lois Lane from the old, black and white, Superman show with George Reeves. During a break he came over to say a quick "hi" to the kids. Twenty years earlier, he would be playing in bands at clubs across the street from where we stood, and I would do stand-up and film public access comedy shows, both dreaming about fame, fortune and glory. Now, we stood there as my kids asked if even his socks were from the 50s – he said they probably were– but everything was authentic, pipes, lighters, glasses, cigarette packages, newspapers and all the women were wearing real 50s style underwear, so they fit the costumes properly. My wife wanted to know how he knew what the women had under their dresses – to which he replied with a raised eyebrow that would have made John Belushi proud and made a quick exit back to the Indy IV set. Authentic underwear: just another example of the painstaking detail that these Lucasfilm/Paramount folks put into this film. We left for lunch at the Black Bear Grill and my son asked a crewman how much did all this cost – he laughed and said that we will probably never see a film of this large scale so close up, again. To which Owen replied, does "large scale" mean everyone was fat who worked there? Oh, to be a seven-year-old.
When we came back we noticed one of the old car drivers was really a local high school principal. Then started talking with a fellow (who I soon discovered sat near me at the Billy Joel concert on October 30, 1996, during which Joel kept stopping the show to give the crowd updates on the Boston Red Sox/ New York Met World Series) said Steven Spielberg had just come out and not only stopped to wave to the crowd, but turned the cameras on them literally! As they all snapped away with their various cameras at Mr. Spielberg, he pulled out a camera and started taking their pictures. Now they could all go home with a great story – they had the same thing in common with Tom Cruise, Tom Hanks, Richard Dryfuss and Harrison Ford – they had just had their picture taking through the camera lens of an Academy Award-winning director! I mentioned that I had a great photo of Spielberg and Ford yesterday, but had to delete it – the "old concert acquaintance" said no problem, and emailed me the shots (they look great) it was like being a kid trading baseball cards.
Seconds later Harrison Ford made his way through Yale's Phelps Gate (where I asked my first girlfriend out), he stopped and waved at the crowd twice, as they cheered and snapped pictures. This time, I let my son Owen, who sat on my shoulders play cameraman, and he took a few somewhat blurry shots of everyone's favorite globe-trotting archaeologist.
Everyone was having a good day, as we made our way to the car and some ice cream at the Tasty-Di, across from the British Art Gallery. We watched them film more cars driving down High Street and then we headed over to the Yale Peabody Museum . If you are ever in New Haven, you must stop there, its our version of the Museum of Natural History, and where every kid went with their parents or third grade class. It has meteor rocks, a vast collection of dinosaur fossils, and a mummy – the kind of place you could imagine Indiana Jones looking for a wayward Marcus Brody.
The last few days have been amazing, as we met old friends, met new ones, learned about movie making up close from the best in the business, and about promising, upcoming filmmakers like the folks at safehousefilms.com. Truly, what an adventure it has been.
Driving away, I looked back and thought about how Indiana Jones was somewhere around these streets getting himself into all sorts of trouble like he did in the old days. And somewhere in our memories we were also running around the same streets, just like we did in the old days.
With the big Indy-pendence Day approaching, cookouts, fireworks at the beach, and getting going on finding a new marketing/public relations job (I wish writing about movies would pay the bills – but this is just something I have been doing for fun for my friends – both old and new) I am taking a break from the New Haven filming.
However, a great resource will be the local newspaper and news station (newhavenregister.com and wtnh.com) for more information, photos, interviews and video on all things Indy in New Haven. So check them out.
Indy IV in New Haven day 2
June 30th, 2007 | Digg This
Indy IV in New Haven Day 2
Well, today was interesting in New Haven for many reasons…
I did a solo today, as the kids have been totally turned off to movie making – I believe that they think it is up there with watching paint dry (extremely expensive paint – but boring nonetheless). I watched huge trucks and cranes, setting up lights. I saw the trucks marked Panavision unload equipment and was still pinching myself that these city streets were the same ones I grew up on and used to argue with my friends on what would make a great movie, never thinking I would watch the making of one take place in front of me. A film made by one of the industry's legendary directors and one of its biggest stars, nonetheless. If you have read my other blogs, you will know by now that I have a special spot for the town I grew up in. I always saw it as diamond in the rough, a well kept secret that out-of-towners never really noticed.
Now, I know I mentioned that my kids found it all boring, but I grew up watching those nerdy "making of" documentaries. The ones where they would show the model makers move the AT-AT Walkers in "The Empire Strikes Back", or the mine car chase in "Temple of Doom", one frame at a time – again and again. Months of work for 7 seconds on screen – that was always an example of true professional craftsman and patience beyond imagination. It still doesn't change watching "Indy IV" being put together. I asked a cameraman if those were digital cameras they were loading and he said no it was real film – and only about 4 minutes of it in the canister. I found that simply astounding! Maybe this a little redundant to any film experts out there, but watching them load the cameras – I must admit I was floored. When you watch all the preparation, the labor force involved, the attention to detail, the hours of takes and retakes, to see it all done for such a brief snippet of time – FOUR MINUTES – it's no wonder that it takes take after take, months, and years to produce a film! So when you watch a film being made and think it looks easy — you are sadly mistaken!
Today was nicer in New Haven, the weather was cooler, even a bit cloudy, but everyone seemed to get used to having the Indy IV film in town, and traffic – both vehicular and pedestrian flowed smoothly. Chapel Street still had more detailing to the shops, such as gumball machines, shoe shine stands, and pamphlets posted all over, giving it a more authentic feel as the town where the 1957 Marshall College is located.
Old cars went up and down College Street, nothing new. I was hoping that it wasn't going to be a dullfest, as the kids had experienced the day before, and after an hour I was heading home. On the way back to my car, I saw a bunch of folks gathered around and asked what was happening and they said that Harrison Ford and Steven Spielberg were there. But it really looked like a lot of trucks, cables, lights, and folks hanging around drinking coffee at the food tents. Then everyone was pointing at the food tent and sure enough there was the star of the film! Everyone was chattering, "he looks taller than I thought", "I have to call my wife/husband/kids", "where's my camera". But after a few seconds, he headed off down the street. People were still buzzing, amazed that one of the most successful stars in movie history had just walked by. I started talking with a tall fellow who was watching the excitement and we both agreed it was cool. We started to chat, he told me he was from
Boston and in town for the summer – and how he came down to see the action. We walked and talked and turned the corner and stopped in our tracks to see Steven Spielberg and Harrison Ford – wow that was cool times two. Like tourists' kids at Disney World who just bumped into Mickey and Donald, we took out our cameras. This was really cool, I thought, wait until I tell the kids, they missed it, and I really did see the real Indiana Jones /Han Solo and the man who made "ET".
Then I realized that everyone was dressed in 50s clothes around us, and we weren't.
Hmm, that was strange, I hadn't seen all those extras before, and where were all the people we were just standing around a second ago. I may be a little slow on the uptake, but as my old boss used to say, even a blind squirrel finds the occasional nut. And at that moment, I felt really, embarrassed. It was one of those moments in life that you slowly look around and realize that you just did something was not right. I turned to this new acquaintance and said, "did we take a wrong turn", and before I could get an answer we found out that we did.
Now, at this point in the story, I have to say that all of this blog writing, and reports, have been a great way to share all the excitement happening in New Haven and what a time it has been watching all of this take place. It has introduced me to a huge network of fellow fans, from all walks of like, ages and around the world! Truly, this has been an amazing experience, in just a matter of weeks. As a Marketing Director, I am also well aware of the influence and reach of communication, and have been careful not to reveal anything that would ruin the surprise that awaits fans next May when the go see Indy IV on the big screen. It would be like waiting for a Christmas present for 17 years and have your friend tell you what you are getting months before you open the package – it takes the fun out of it. The foolishness of leaking storylines only hurts the fans in the end. How mad would you be to know that Luke Skywalker's father was Darth Vader a year before you saw the movie – pretty disappointed, huh?
Further, after reading the emails and comments that I have received, it has been a really eye-opener to see the devotion folks have for these films, to many it is a huge part of their life, similar to Star Trek and Star Wars fans (no offense, to anyone). I always considered myself a big Indy fan, I remember going to see the films fondly, but its not my life – I also like the Yankees, Giants, blues and jazz, the works of Saul Bellow, Raymond Carver and John Steinbeck and more than anything else, spending time with my family. What I have seen from others is far beyond my few posters and trinkets.
I say all this in this blog, because, after I walked away from the street where they were filming, myself and the gentleman I met, were asked to delete the pictures we took, which we fully complied with, immediately. Feeling foolish and realizing how difficult it must be for the production crew on location. For every honest mistake, like ours, there must be a constant set of bozos interrupting them. Hopefully, I am not in that category now – Look gang, the production company is there to work. End of story. You wouldn't want someone walking in to your place of work and interrupting you all day. They are professionals at work and should be treated with respect. We all enjoy the final product, so let the craftsman work, and don't get in the way!
Afterwards when we left, we talked to each other realizing how foolish we felt. It was then that my friend called and said the local news crew was looking to do a feature on local fans who had come down to the filming. We waited for the reporter and when he came up he asked us a bunch of questions and asked if we had any stories, if we had seen anyone famous, etc. We went on to talk about what a huge thrill it was to be in New Haven, and see all this, the old cars, the 1950's storefronts, the fellow fans, and how we had seen some big names.
Do you know what they used to tell that story on the news that evening? How we were told to delete our photos.
None of the good stuff, the positive, just the negative was there. Whenever I conducted print interviews at my job, I always asked for a final review before it hit print – to make sure I wasn't taken out of context. What was used that evening on the news was exactly what I didn't want to see – instead of Indy fans rejoice – it was Indy fans bitch about deleted photos. If you watch the link on wtnh.com and look at the Day 2 filming story, you can see that I wasn't even aware we were really taping, as I casually leaned on the wall, expecting that it was a just a run-through of the questions. I talked about the importance of set secrecy – and why film companies need to protect themselves - and they blended it all together with my glib response.
To say that Day 2 was not what I thought it was going to be – is an understatement.
Oh well.