Next Filming Location Unveiled?
July 2nd, 2007, posted by FofR | Digg This
Glen Eigo has sent us a report, this may be considered a spoiler so the text has been hidden, to reveal the details simply highlight the text:
I was at the Essex Steam Train in Connecticut today with my wife and son. There were signs going up for Bedford Train Station and Western Union.

Essex Steam Train is a tourist attraction with an old steam engine that generally brings tourists and sightseers up and down the Connecticut River Valley. The train travels up to Deep River Connecticut to let passengers off to ride the Beck Thatcher River boat up the Connecticut River.

There were Genre Productions crew members all over the site checking things, hanging signs, and painting the train station. There was also a company supplying tents and some signs directing crew members where to park.

Anyone who wants to see the production being set up should probably travel over there today or tomorrow morning. The layout of the area would make it difficult for the crew to completely seal off the area as there are multiple ways to approach the facility.
And to continue our theme of posting ridiculous amounts of 1950's New Haven imagery, here are some excellent new links.
Firstly, The Movie Scorecard has an excellent picture of the motorbike being used during filming and they claim to have some big news coming soon, we'll have to wait and see!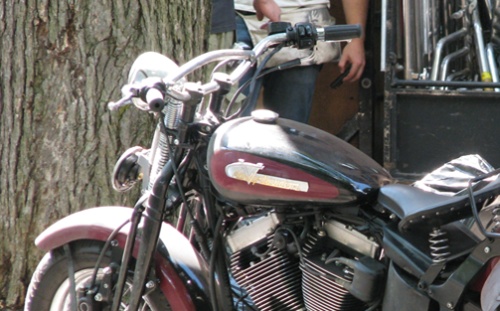 Secondly, let's have some more galleries:
New Haven Plays Bedford 1957
Madogvelkor returns with video
Our reporter in the field Mitchell Hallock has also reported sightings of George Lucas on set in New Haven.
3 Responses to "Next Filming Location Unveiled?"
Hoopla - Entertainment Blog » Blog Archive » Next 'Indiana Jones 4′ Filming Location Revealed? Says:
July 2nd, 2007 at 6:09 pm

[...] shooting currently underway in New Haven, Connecticut, the Unofficial Indiana Jones Movie Blog has received an email from someone who claims to know where production will be heading once [...]

JDM Says:
July 4th, 2007 at 7:02 pm

Yes, as anyone who's been there the past few days, the next, and perhaps the last place for filming of the upcoming Indiana Jones movie is the Essex Railroad's excursion train station.
I was there twice on Tuesday the 3rd and found it to a buzz with all sorts of production personel from painters, carpenters, electricians, landscapers, etc all putting the final touches of transforming the train station into the weathered hub of "Bedford, Connecticut" rail transportation in 1957.
In talking with some of the craft people filming will be on Thursday, July 5 with the excursion train operating from alternate tracks that will not interfere with the filming. Another member of the railroad staff said that they were to be using 200 extras, which, if you've ever been to this very tiny site should make for a hustling and bustling scene of a much larger setting.
The carpenters were enclosing the power generators in the rail car to look like two large "crates" that will be used for power while some of the in car scenes are shot it seemed.
All in all, it's not at all like down town New Haven with it being a bit more difficult to limit all access for the imaginative members of the movie "spy" game.

JKP1 Says:
July 5th, 2007 at 12:36 pm

Today 7/5/07, I can confirm filming is in full swing at the Essex Steam Train in Essex CT. As I drove by, could not help but notice massive police presence at the station entrance. About a dozen tractor trailers parked in nearby lots, In the enterance was about 6 or so perfectly restored 50's taxis and the larges boom mounted lighting arrays I've ever seen. Think portable major ball league stadium lights.

Pretty cool.
Leave a Reply