Images
Crystal Skull revealed…
February 6th, 2008 | Digg This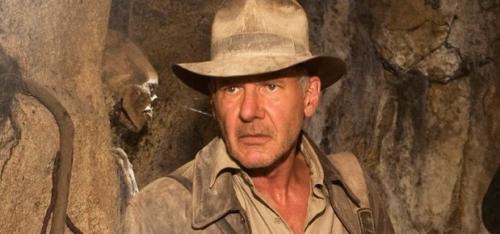 … and then covered up again as Paramount Pictures sweep across the internet in hopes of removing all references to it. I'm not going to post the SPOILER image here, but a couple of sites do still have the image up. (Bradley Cain's Blog, Dugg Mirror, Geeks of Doom, ATTUHome for instance). The picture above is NOT the skull image (which is much clearer, scarier and other-worldly) - it actually comes from the Official Pix blog,
The 11×14 inch Indiana Jones and the Kingdom of the Crystal Skull image will be limited to just 50 hand numbered pieces making it an instant collectible! Each of these hand signed photographs will come bagged, boarded, and include our numbered COA. Price: $459.99.
In other news, Empire have released a higher quality version of the Cate Blanchett image we have seen recently,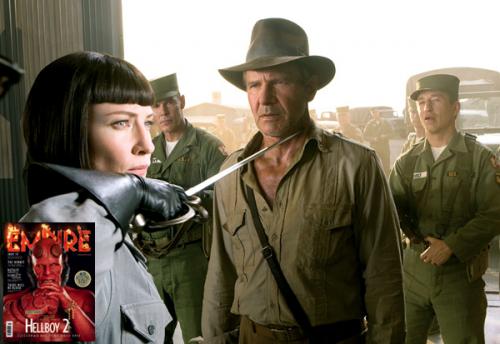 Thanks Guy for the heads-up.
Two new Indiana Jones pictures
February 3rd, 2008 | Digg This
This weekend sees the second Empire photograph come online, portraying Cate Blanchett with sword - looking particularly menacing. The second is an MTV exclusive shot of Harrison Ford amongst some cargo boxes in a pretty generic Indiana Jones pose.
Via Coming Soon: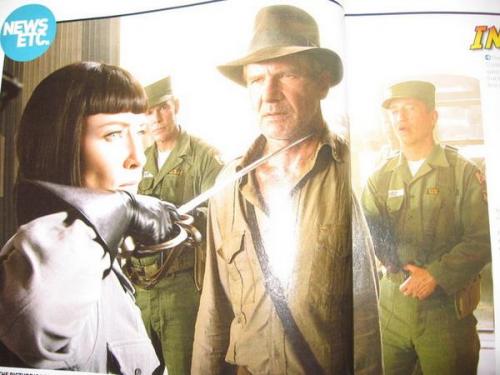 Via MTV: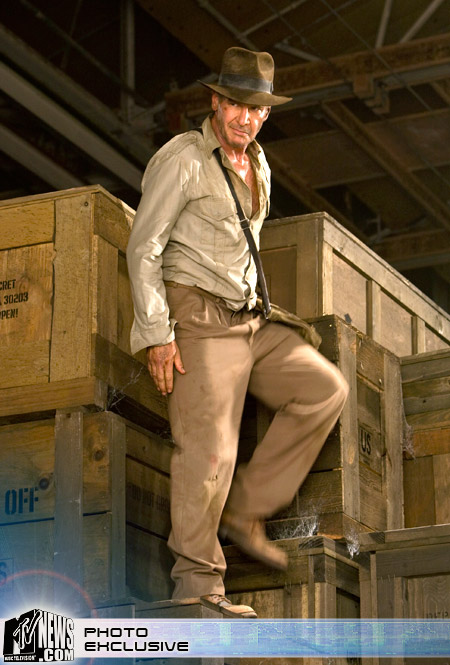 Empire posts Indy with a rocket launcher
January 30th, 2008 | Digg This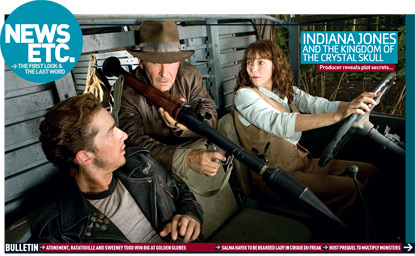 And here we see Indy with his traditional whi… rocket launcher. Empire online has just posted this image as a teaser for their upcoming Indy 4 feature. Inside the issue there is also a second picture of Cate Blanchett as Agent Spalko.
"This picture is locked," Marshall told us of the current progress. "Steven's pretty much done editing. And we're going into the phase with John Williams where he starts scoring the movie. He's really writing now and then we'll start scoring in February".
New Indiana Pictures and Wallpapers
January 15th, 2008 | Digg This
Today we are greeted by a glorious new high resolution image of Harrison Ford and Shia LaBeouf, along with some official Indiana Jones wallpapers to boot.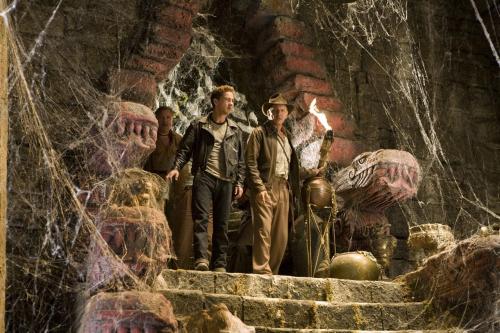 Secondly, the official website has update to include some new wallpapers - no new pictures here, but the majority of existing ones reformatted for your desktop resolutions. How very kind of them.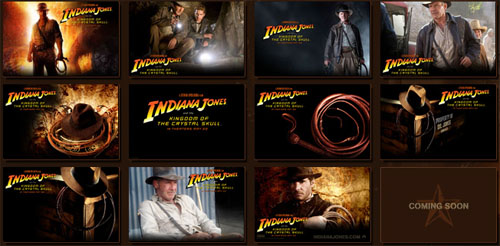 Spy pictures from the Indiana Jones set
January 5th, 2008 | Digg This
Warning - Spoilers Ahead
These pictures reveal some behind the scenes sets used in the filming of Indiana Jones, they were taken at the Universal Studios soundstage. Because they contain some spoilers for the movie plot they are hidden behind the link below…