June, 2007
More from New Haven
June 27th, 2007 | Digg This
New Haven seems to be buzzing with Indiana Jones fever, we've already posted many pictures of the street transformation, but there's room for a little more. Here are some select shots from Astoria Studios, this time showing some inside sets, building plans and other neat little film props:







There are more than 100 shots from New Haven at the Astoria gallery, check it out
here
and even more shots at
Flickr
.
The local news also has a video piece reporting on the kafuffle, catch the video via
wtnh.com
(beware of cheesy ads, only viewable in Internet Explorer).
The New Haven register have their own report which also has a picture gallery, from the sounds of it the Temple Street festival was a blast.
In all this commotion we have accidentally omitted The New York Observer's Indy article, which can be found here. But beware, there are spoilers within. In the article there is an interview with a confidentiality agreement-bound extra where a number of revealing truths are claimed amongst other rumors, though nothing too ground-breaking. It's worth a quick read.
Pictures from 1950's New Haven Set
June 27th, 2007 | Digg This
Madogvelkor has snapped some pretty awesome shots of New Haven's Indiana Jones set which have been sent over to us, showing us the time travels taken by New Haven as we go back 50 years - ready for the Indy shoot.










Oh my, we've got some more great shots for you. Avid photographer and Indiana Jones fanatic Mitchell Hallock has been snapping away amidst the Indiana Jones Temple Street Festival and he contacted us today with some of his results. Click onwards to read the full news article and see his great pictures.
Official Video Footage from on set
June 26th, 2007 | Digg This
Steven Spielberg has shared with us via the official IndianaJones.com website some footage from the first day's shoot. Watch the video in high quality quicktime on the site.
Or alternatively, watch the video we uploaded to Youtube here:

Here are some screencaps: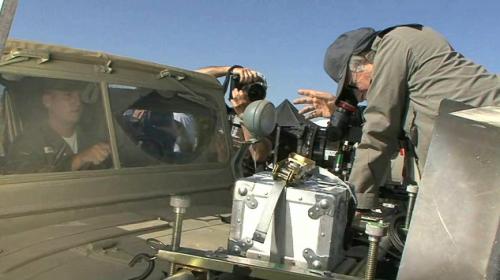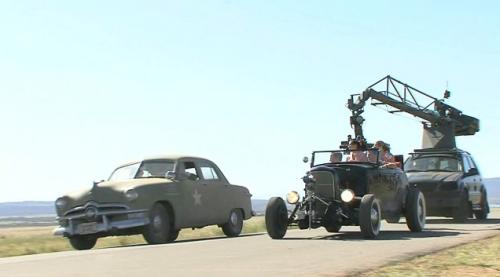 Shooting Schedule at New Haven
June 25th, 2007 | Digg This
The New Haven register have revealed that shooting will begin on Thursday 28th in New Haven:
While Chapel Street will be closed to motorized vehicles, except for 1950s sedans and a motorcycle, for much of Thursday through Saturday, you'll still be able to walk up the street and into Woolworth's.

[...]

Because of the probability of changes in the filming schedule, the production crew will post the next day's schedule each night on the city's Web site, www.cityofnewhaven.com.
Shooting is expected to begin as early as 6am this Thursday until July 7th, omitting July 4th and Sunday 1st. The article goes on to highlight some changed minds regarding the Derby Avenue chase scene and a new scene altogether:
As of late last week, plans for Thursday were to shoot inside William L. Harkness Hall and the Yale Law School, and on the following streets, at least part of the time: College Street between Grove and Crown streets; Chapel, Elm and Grove between Temple and York streets; High between Crown and Elm; and Prospect Street between Trumbull and Grove streets.

[...]

One change the Paramount decision-makers have made is that they will not use a Yale practice field in the scene. "Their creative team decided that they're not going to use Derby Avenue for the chase scene," said West Haven Police Chief Ronald M. Quagliani.

Lamb said that part of the schedule will be filled with something new. "They're creating a new scene, which hasn't even been confirmed yet, so that's going to go in there," she said.
Wtnh.com are detailing a number of aesthetic changes you may come across,
All the shops along Chapel will be getting face lifts, the gallery's, dress shops and restaurants.  Each could be in the background when filming begins next week.  Already Indiana Jones fever has begun and customers say you never know when you may see one of the movie stars.
Whilst New Haven are putting on the Indiana Jones and The Temple Street Festival. Check out all the details in the link, but proceedings include a free showing of Raiders of the Lost Ark and themed contests. All free of charge. It kicks off tomorrow, June 26th.
Filming to take place along Hamakua Coast, Hawaii
June 24th, 2007 | Digg This
The Hawaii Tribune-Herald reports that production teams have set up show in Deming and along the Hamakua coast:
Location shooting will take place along the Hamakua Coast and Lucasfilm has opened a production office in Hilo. There is no word yet on any casting call or other local production hires.

Filming on the project, to be released May 22, 2008, started Monday in Deming, N.M., where part of the town has been decked out to resemble Morocco during World War II.

Security surrounding the yet-to-be-titled film, which has been dubbed "Project X" by those close to the production, has been even tighter than around past film projects on the island.
The full article, which also goes into some depth about the secrecy involved in the film's production, especially when it comes to plot leaks, the worldwide media and the internet. Read the full article by John Burnett here.