Video
New Official Video
August 13th, 2007 | Digg This
IndianaJones.com have updated their site with a short documentary / series of interviews with the likes of Harrison Ford, Steven Spielberg, George Lucas and Kathleen Kennedy. The theme of this new video is "Family Reunion", bringing old friends together again for Indy part IV.
Meanwhile, Karen Allen has been talking with the Berkshire Eagle about her return as Marion Ravenwood:
"It's an action-adventure role, because that's really the nature of these films. They are shot-out-of-a-cannon kinds of films — there is a lot going on from the moment it starts until the moment it ends."
IndianaJones.com updates
July 31st, 2007 | Digg This
The official website has just recently added some new items to their newfangled site. These are, the Comic-Con satellite feed and an official behind the scenes look at the filming that took place in New Haven and Hawaii.
On the downside, no longer can we download these wonderful videos in high quality quicktime format.
News and Treats from Comic-Con
July 27th, 2007 | Digg This
This is a big day for Indiana Jones fans, first up, let us show you the special treat that the Indiana Jones cast lay on for us at Comic-Con.
And yes, the big surprise,
Karen Allen has returned to reprise her role as Marion Ravenwood!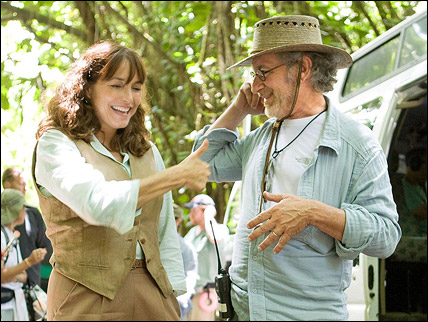 Let's see, what else do we have here, ah yes:
Dark Horse have made a press announcement:
Dark Horse Comics is excited to announce that it has acquired the comic book rights to the world's most famous adventurer and will launch a new series in 2008.
And the Official Indiana Jones website has undergone a revamp ready for the fourth installment. head on over and check out that has changed. "Property of Dr. Jones" - do you like that image? Then be sure to check out the site's downloads section for some new wallpapers.
Aint it Cool also have a shot of a teaser poster and some higher resolution pictures of the live conference.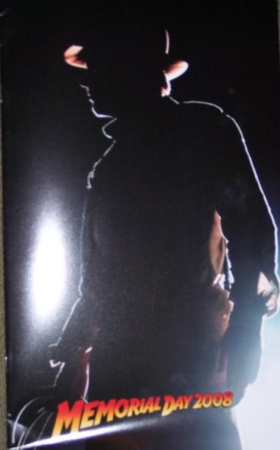 Indiana Jones and the news this week
July 13th, 2007 | Digg This
Everything always seems to take place in the couple of days that you take an internet time-out. You may have noticed that the posting frequency this week has reduced - I am currently in the local library, here to fill you in on all the juicy news and gossip. Regular posting shall resume tomorrow evening.
First up, Indiana Jones has arrived, so says Spielberg in this brief but fascinating video…
Check out the full size quick time version of the first official footage from the
official Indiana Jones website
.Next, the full
Comic Con 2007 schedule
has been revealed; July 26th is the day to note for all indy fans.
We've also got some more pictures from the car chase scene in New Haven via the Vintage Mustang forums. These are some great night time shots of the set or filming location if you prefer.
Cinematical has a spoiler filled article which I think refers to the earlier AICN scoop, though the library filters here are restricting my access so I cannot confirm its content. Head on over and check for yourself.
Over.